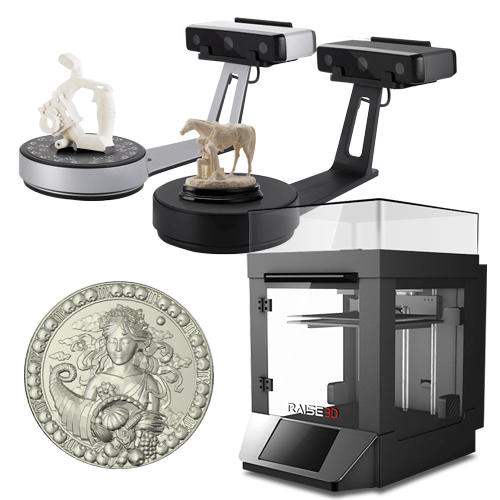 Devanet 3D scanning and printing services
Devanét® 3d scan and print technology investment has come about due to the increased demand for bespoke work involving products where a customer wishes to source from UK manufacture and to have a prototype produced in a short time frame to check size, appearance and functionality. The scanning system is designed to provide detailed high resolution scans with single shot accuracy of between 20-100 microns and smallest scan volume 30 x 30 mm. With the option of two modes auto and fixed, Devanet can offer customers solutions for 3D scanning buckles, components, trophies, jewellery and large frame objects with a high degree of accuracy.
The 3D print capability has been designed around a maxim of 205 x 205 x 205 mm for typical FDM prints and for high detail the SLA print will work with a 145 x 145 x 175 mm footprint, with a laser spot size of 140 microns and a layer height between 25 and 100 mcirons. The Raise3D Printer with Dual Extruder is one of the best printers for larger medium resolution prints. With a resolution layer thickness frpom 10 to 250 microns,with additional nozzle combinations from 0.2, 0.4, 0.6 and 0.8 and dual extrusion capability offers customers a 3D printing service for a wide raneg of aplications.The Raise3D printing temperature can reach up to 300°C for printing a wide range of filament. Devanet can make prints with 2 colors or use one filament as the support material to make more complicated models. Compatible with most filaments available. The list includes but is not limited to: ABS, ABS 350, HIPS, NinjiaFlex, PC ABS, PC Plus, PETG, PLA, PLA+, PolyMax PLA, PolyFlex, R-Flex, TPU, BronzeFilled, WoodFilled. The devanet 3d printer has one of the highest print qualities and accuracy levels available for its size.
The SLA Printer is used for more detailed jewellery, substantial invesment in the package supplied by Formlabs enables us to produce rapid prototypes, and production quality parts of logod buckles and components - the advantage fo being able to produce in various raw materials from standard photopolymner resins to jewellery grades, here are some of the options from our SLA supplier of resins.
STANDARD GREY PRO RESIN
Grey pro resin is our standard photopolymer which has low creep and moderate elongation at break. it is ideally suitable for concept modelling and functional parts. it is ideal for rapid prototyping for buckles and components, as well as parts that are designed for form and fit testing - where two components need to to work together, for mold masters for plastics, silicones.
Devanét®

- Rapid Prototype

Devanét®

- Buckle Back Detail

Buckle for OMG racing
Scottish Ambulance Service Buckle
Custom Made D rings
Hat Protection & Breather Device
Golf Ferrules
Incense Burner
Skull Buckle 3d print
Buckle Pin for 32 mm buckle
CASTING RESIN
This amazing product recently became available for direct casting without the need for the intermediate step of producing wax molds and trees. It is ideal for one off prototypes and can be used in the printer to produce an array of parts ready for casting.
It has 20% wax content, posesses features such as zero ash and a clean butn out of the mold essential for good casting results. The resin allows for fine detailed features, smooth finshes typical of SLA prints and above all requires no post cure and is firm enough to handle for trying on and fit tests as well as direct investment casting. This product ideal for complex designs and fine detail components.
| | |
| --- | --- |
| | |
| Castable Wax Jewellery - ring examples | Tree illustrating cast rings using Formlabs wax |
RIGID
Reinforced with glass to provide high stffness and a polished surface finish, excelllent resistance to deformation and can be used to print thin walls and features in the model. Typical applications would be for jigs, fixtures and tooling, safety buckles for cats, casings and automotrive housings as well as buckles and components for workwear, dog and cat collars as well as guitar straps.
| | |
| --- | --- |
| | |
| Rigid Resin 3D print | Rigid Resin 3D print |
Ceramic
A silica filled photo polymer, that after firing and burn out of the photopolymer netowork leaves behind a ceramic part that is resistant up to 1000 degrees centrigrade. The process is considerably more complex than standard resins and requires additional design parameters such as filleted edges and wall thickness control. The design also must cope with shrinkage up to 15 % of the finished part due to the burnt out process so these elements must be carefully considered. Devanét® will undertake special devclopments with Ceramic subject to design parameters.
| | |
| --- | --- |
| | |
| Ceramic cast parts using Ceramic Resin | Ceramic 3d Printing |
FLEXIBLE
Formlabs flexible resin enables Devanét® to be able to produce components that bend and compress, adding ergonmic and soft feel characteristics that make the 3D prints suitable for a variety of applications encompassing wearable type prototpyes, soft grip handles, cushioning and packaging, stamps. The flexible resin is designed to support print resolutions between 50 and 100 microns, simulates an equivalent of 80A shore durometer hardness. post Cure cycle is required for this product undertaken by Devanét® for our customers.
Special UV curing is applied to some products to ensure that the resulting product reaches its maximum strength and is suitable for handling. This is an automated process provided by Devanét®.
NEBULISED AEROSOL POLISHING TECHNOLOGY
| | |
| --- | --- |
| Typical filament 3D print | Nebulised smooth 3D Print |
Another key element in Devanet's scan and print is Nebulised Aerosol Polishing technology, most 3d prints are completed and the fnish is matt and sometimes a little rough on the edges, Devanet can with the help of its nebuliser remove all the rough elements and produce a glossy finished products that can go straight to mold making or as a finished prototype. In addition the smooth consistent skin makes the product tougher, it works in conjunction with our special filaments to create the right finish. It is designed to take parts up to 150 mm diamater and 180 mm high. The concept is to produce layer free post processing for our customers so that reworking etc becomes obsolete and ability to cast straight from our 3D print saves time and money.
Devanet provides customers with a total package from creation of a 3D print to a cast metal product. It is the company ethos to continually invest in new processes and equipment to provide customers with a totally integrated solution in terms of design through to finished product. Contact

the Devanét®

sales office for further information.